Interview with Emily Elise: The Land of Lakes Pole Festival and Pole Art May Show
Mar 02, 2023
By Sara Schreiber
Emily Elise has been a part of the Minnesota pole dance community for nearly a decade. She grew up dancing, but abruptly stopped in her senior year of high school. When she was in college, she realized she was filling that void in her life with boyfriends. At the time, she was in a particularly bad relationship. She told herself, "If I ever get out of this relationship, I'm going to find my one true love again because this isn't love." That's exactly what she did. She tried pole dance, hoping to feel empowered, and after one class, she knew, "This was going to be my destiny."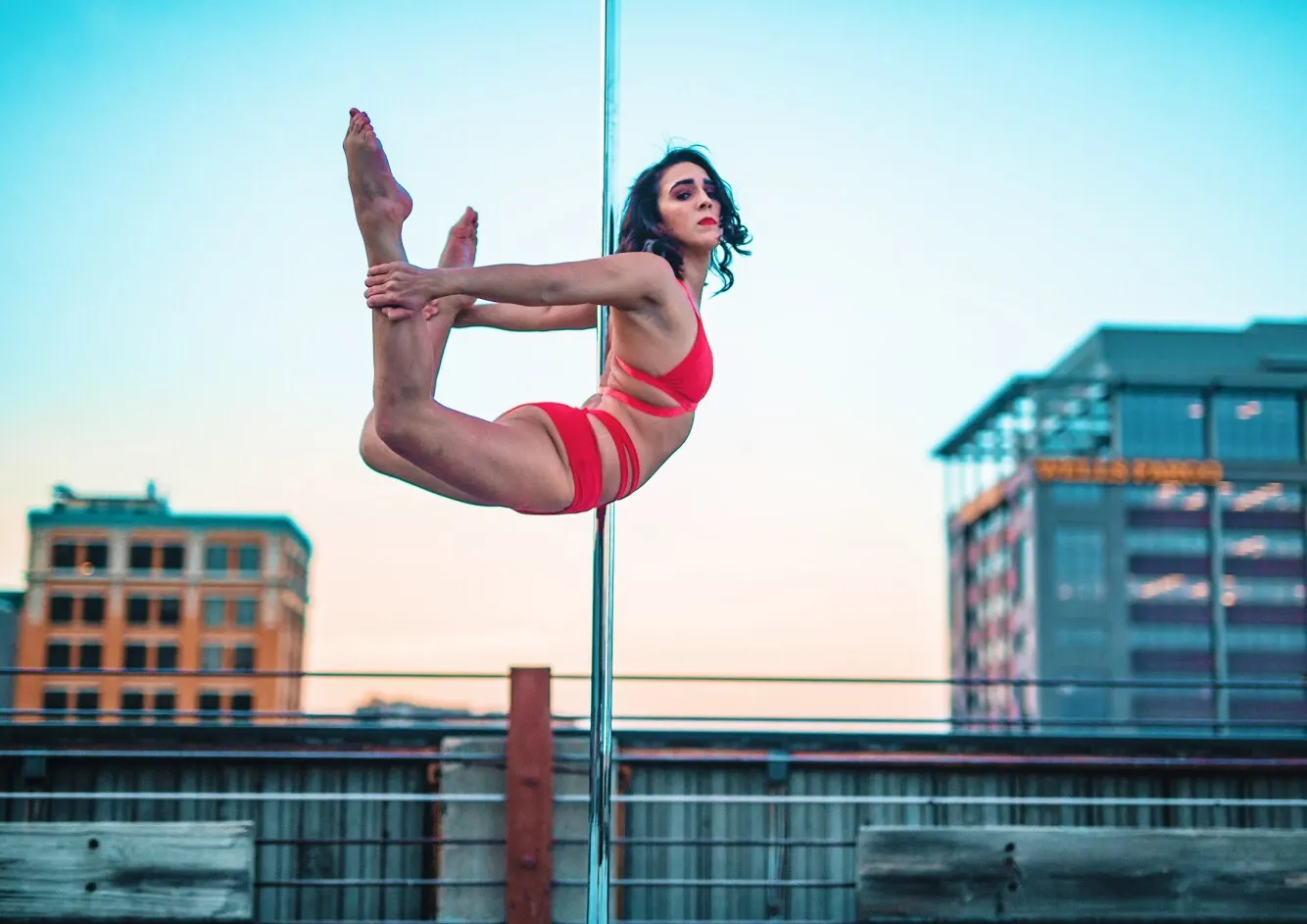 In 2016, Myss Angie launched the Minnesota Pole Competitions and the Land of Lakes Pole Dance Festival. Emily Elise was a part of it right from the start. In addition to volunteering, she was coaching several of her own students in that first year. She didn't compete herself because she didn't want to compete against her own students. Her role grew over the years and in 2022, she coached competitors, judged, taught multiple workshops, and competed in the professional category. Emily decided to retire from competition in 2022. She did her final performance at the 2022 Minnesota Pole Competitions at the Land of Lake Pole Festival. "I knew there was no better way to close it down than to do the competition here at home with all my students, my friends, and my family. And it was the most epic thing ever," Emily says.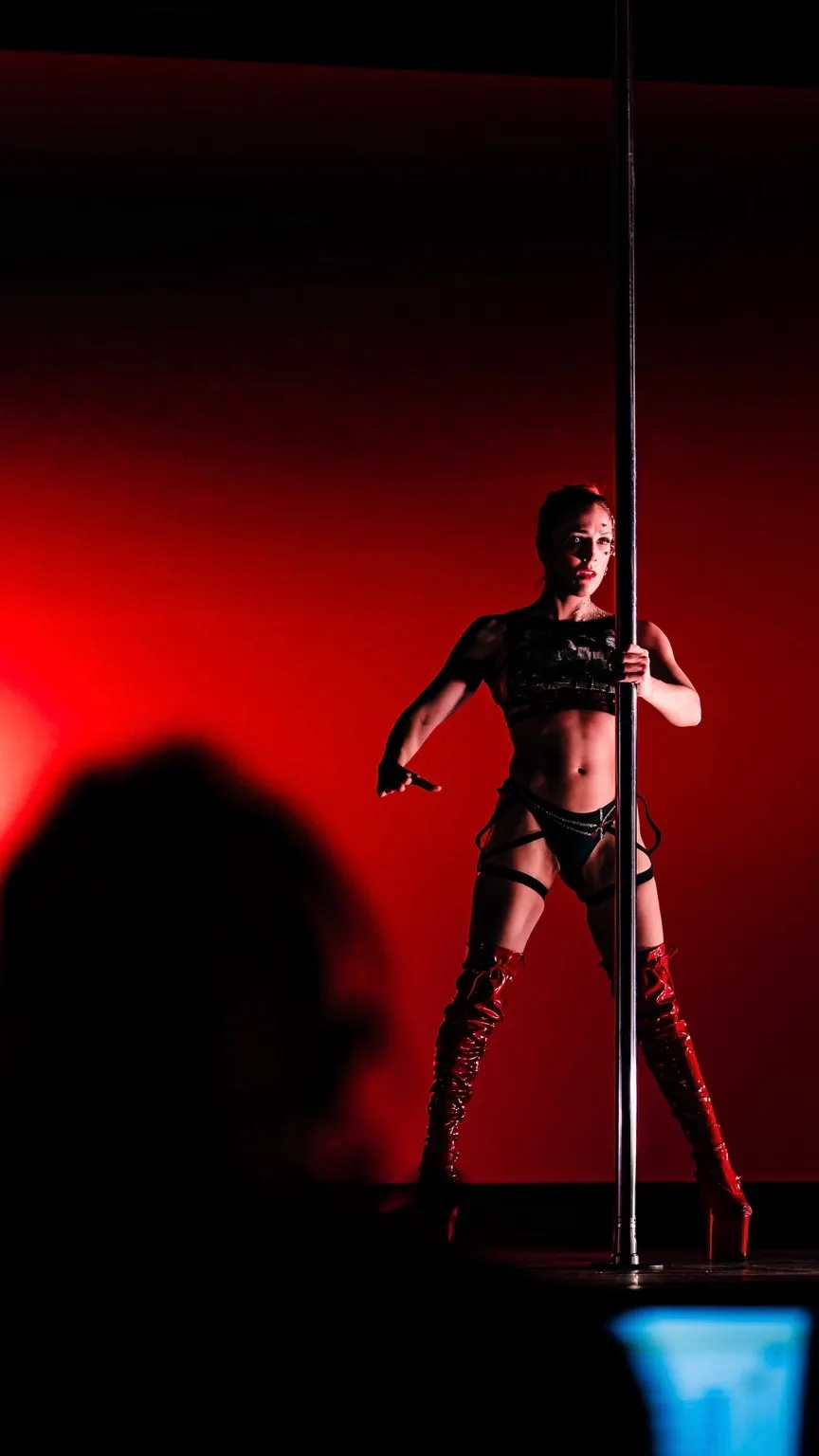 Emily Elise stands on the MNPC stage holding the pole, cybernetic costume and tall red boots, red background. Photo by Frank Wambach
Despite retiring from competing herself, Emily is far from done with pole dance and the Land of Lakes Pole Festival. She loves that LOL Pole Fest is in her home state. "I teach workshops in other places, but this is the only time all my friends from all around come to Minnesota." She hopes to bring new workshops to the festival in 2023. She says, "I would like to do one choreo class, one floor class, and one pole tricks class." In addition to teaching workshops, Emily has her other responsibility at any competition: being a coach. "I always have a few students competing," she says. "Being a competition mom is a big job."
Emily is a devoted advocate for pole competitions. "One of my mottos is: Everybody should try competing at least once. You can't really judge it until you're completely done with it. You're going to feel so different four months out, four weeks out, four days out, four hours out, those four minutes you're on stage, and that second you get off. That's the only time that you can make a decision about it. Up until then, you won't understand until you get off stage why everybody should do it at least once."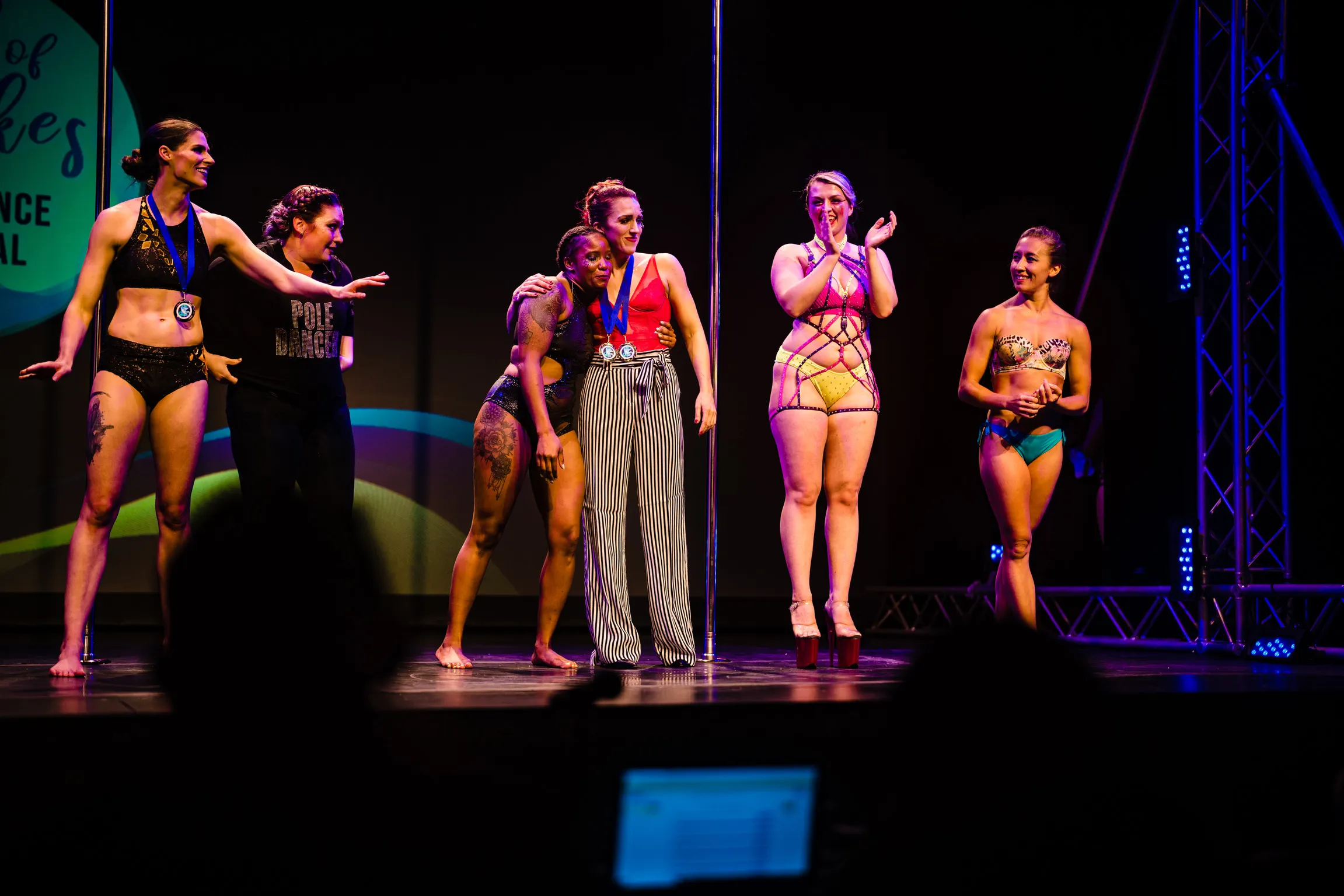 Emily Elise stands center stage with two medals and hugs a fellow performer. Other performers also stand on stage. Photo by Frank Wambach
The Land of Lakes Pole Festival and the Minnesota Pole Competitions are a great opportunity for any performer or competitor. When asked what makes this event special, Emily says, "I've seen a ton of stages and I've been doing this for a long time, lots of competitions. It (the Land of Lakes Pole Festival) is the best stage set that I can have access to. That's the first thing that should draw in a lot of people from all over the U.S."
Many aspects go into making the stage so exceptional and Blake Childs Designs plays a major role. First of all, competitors and performers at the festival have the ability to control their backdrops. "It just completely enhances the entire routine," says Emily. She's considering helping others put together their backdrops for the 2023 competitions. "A lot of people are scared of the backdrop until they figure it out." Emily also likes the professional stage lighting. "They do a really good job of making sure that the lighting matches what you've brought to the video or what you've brought to your costume or your song before it even starts. It all makes a world of difference." A key aspect of the LOL Pole Fest stage setup is the poles themselves. "Right now, they have way taller poles than anywhere else on stage," Emily says. In fact, they are fourteen feet.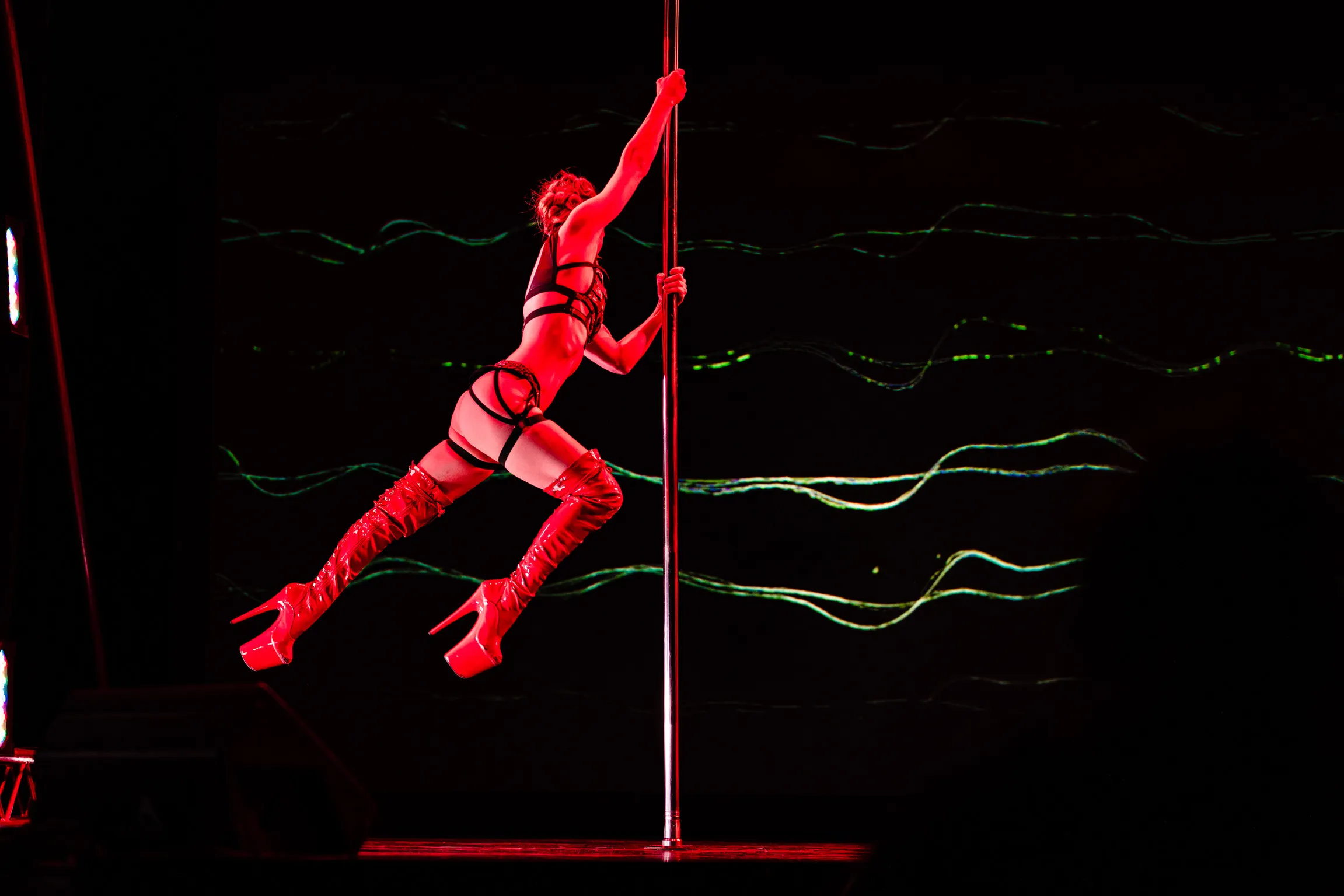 Emily Elise swings around the pole. Photo by Frank Wambach
While Emily has retired from competition for now, she does plan on returning one day. "It's just not going to be for another decade or so," she says. Regardless, she's not leaving behind the pole community. "I've left it (competing) to create new opportunities for the community and the industry and to help push it forward in the next decade," Emily says. "I'm really excited to share it all but it's top secret right now!"
In the meantime, you'll still be able to find Emily teaching and performing. In May, she'll be doing a workshop for the Pole Art Studio. She and Myss Angie are still discussing what the Pole Art clientele want for a workshop, but Emily is leaning toward an all-encompassing choreo class. Additionally, Emily is headlining Pole Art Events' show, Heroes and Heathens. Emily likes to perform her routines multiple times and this new piece will first appear in public at the Pole Art Events show on May 13th, 2023. After that, she'll be taking it to Pole Con and to the Central Pole Championships as a showcase. She is just beginning the process of creating her routine and she plans on taking on a villain persona. "I'm excited to be the villain," Emily says, "I don't know what that entails yet. There will be heels. That's all I have right now." Given her incredible performance at the 2022 MN Pole Competitions with her routine "Subject T27," Emily feels she's given herself something to live up to. "I'm a little bit nervous because I set such a high bar for my last routine," Emily says. "It will have to be so drastically different that people can't even compare them. That's the thing as an artist, when you get to a new level of creativity and art, you won't settle for anything less than that again."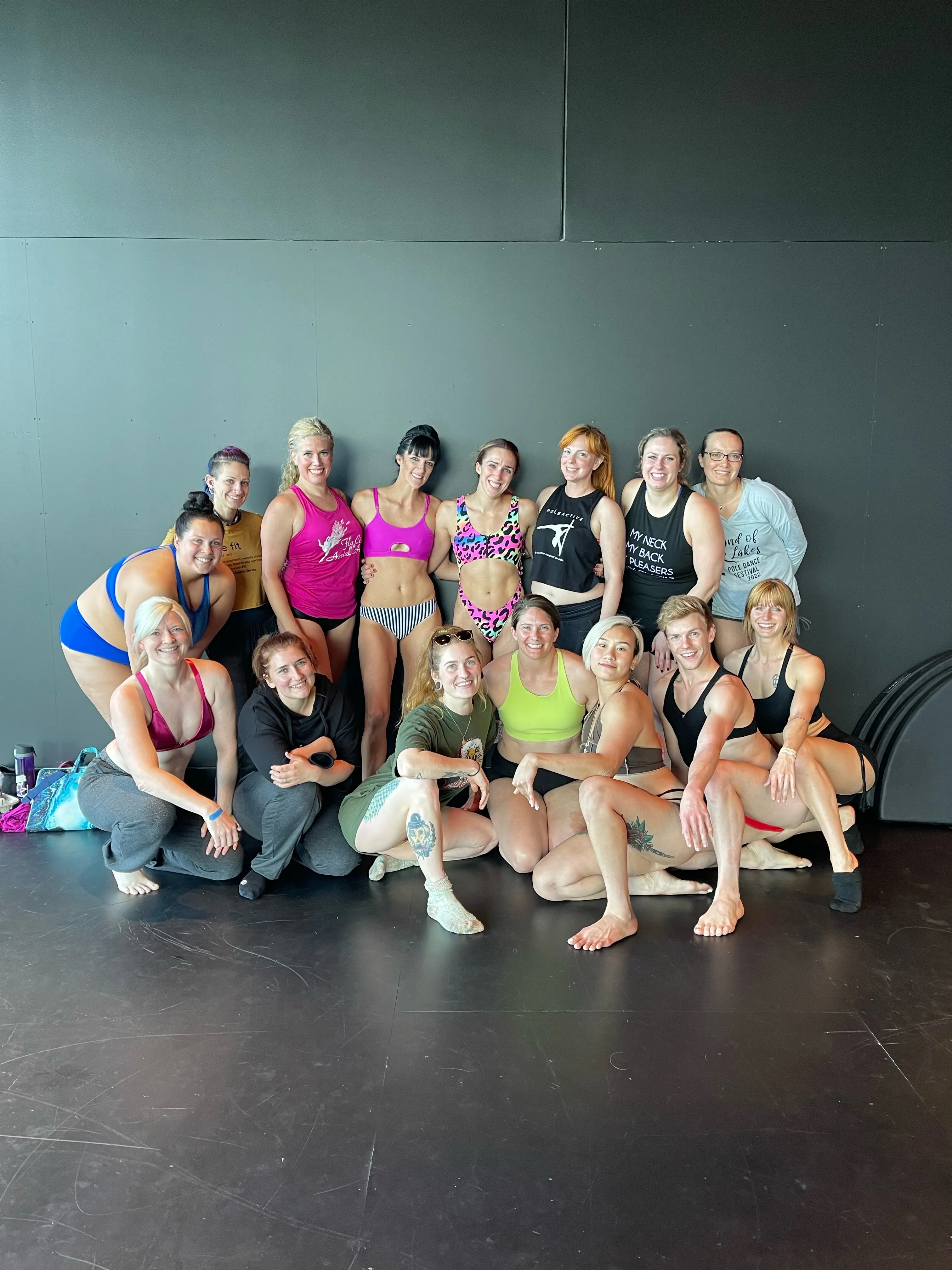 Emily Elise (in multicolor leopard print) poses with workshop group at the Land of Lakes Pole Festival.
No matter what stage of her pole career Emily is in, she wants to inspire and to her that means sharing her art. Catch the debut of her new show on May 13th and find her on Instagram (@emilyelisepoledance) and Facebook (Emily Elise) to see this dazzling pole artist bring her visions to life.