Building a Community: Interview with Divine Em of Fly Club
Feb 01, 2023
by Sara Schreiber
The 2020 Pole Star Champion Divine Em has always had a love of dance. She took all kinds of classes as a child and when she moved to the Midwest, she tried salsa and jazz classes. When a colleague began raving to her about pole classes she was taking in California, she followed her friend's advice and sought out a class in Chicago. Em says, "I took my first class and I was like, 'Yeah, this is where I need to be.'" That was fifteen years ago and now, Em is a pole competitor, a coach, and a pole studio owner. "It really resonated with me because even though I come from dance, it's just a different type of outlet," says Em.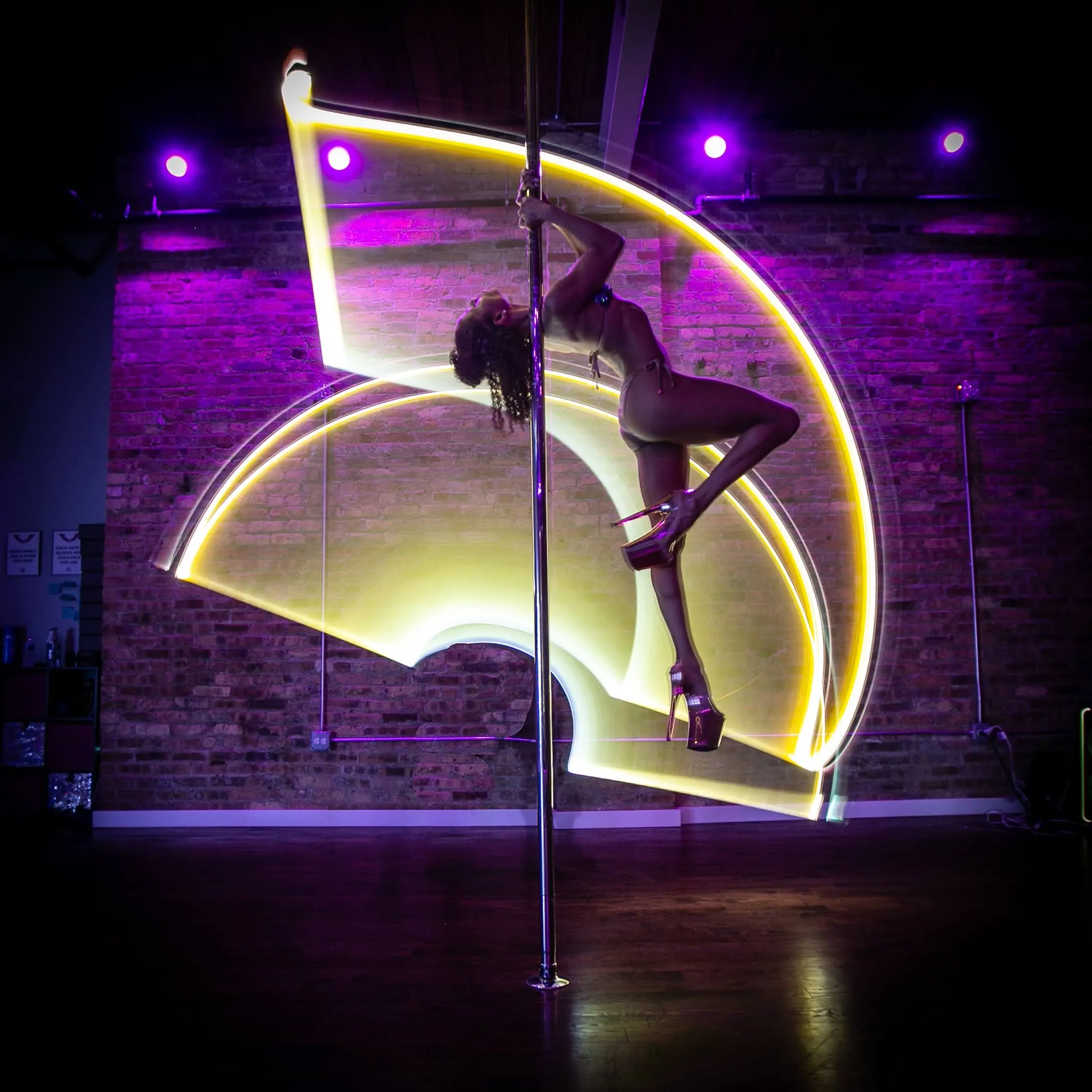 Em has voraciously pursued pole education since her very first class. After taking classes at a studio in Chicago for two years, she was trained as a teacher and taught in that studio for two years. She found her original studio to be a little "cliqueish." Em says it was like "if you go to one studio, you couldn't possibly go to a different studio. That was such a different experience for me, coming from the dance world and being so hungry in my need to learn more and learn from different people." After she left her first studio, she never found another pole home in Chicago. Instead, she sought out training in New York and California. After eight years of teaching in her living room, she launched Fly Club. Em says, "I'd had enough of jumping on planes, trains, and automobiles to have access to a premier training facility or to feel welcomed, nurtured, valued, and safe in a movement space and further hone my pole craft. I was ready to create a sanctuary in the Chicagoland area where folx from all walks of life could enjoy diverse and inclusive pole and movement classes. Fly Club was born from this desire." Fly Club is now coming up on its four-year anniversary.
For Em, pole is about the community in a lot of ways and she went looking for her community. After leaving her initial studio, Em began exploring the world of pole. "I started to have more curiosity," Em says. That exploration and curiosity led to her first competitions. "I remember seeing Natasha Wang compete at USPDF. She did a Black Swan piece. I saw that in person and I was like, 'I need to know more about this world.'" Em could tell that Natasha Wang had worked with someone to develop her choreography, so Em did some research and found Kelly Yvonne who owned a studio in California. "I reached out to her and was like, 'You don't know me and please don't think I'm a creeper, but I saw your work and I would love to work with you.'" Em's work schedule allows for her to have a couple months off every summer and she would go to California. "I took all the classes my body could stand. I became really connected to the pole community out there and would travel there regularly. I would perform out there. That's when I did my first competition piece." That was in 2014 and it was the first time she felt like a true athlete. A year later, she started working with her current coach, Phoenix Kazree.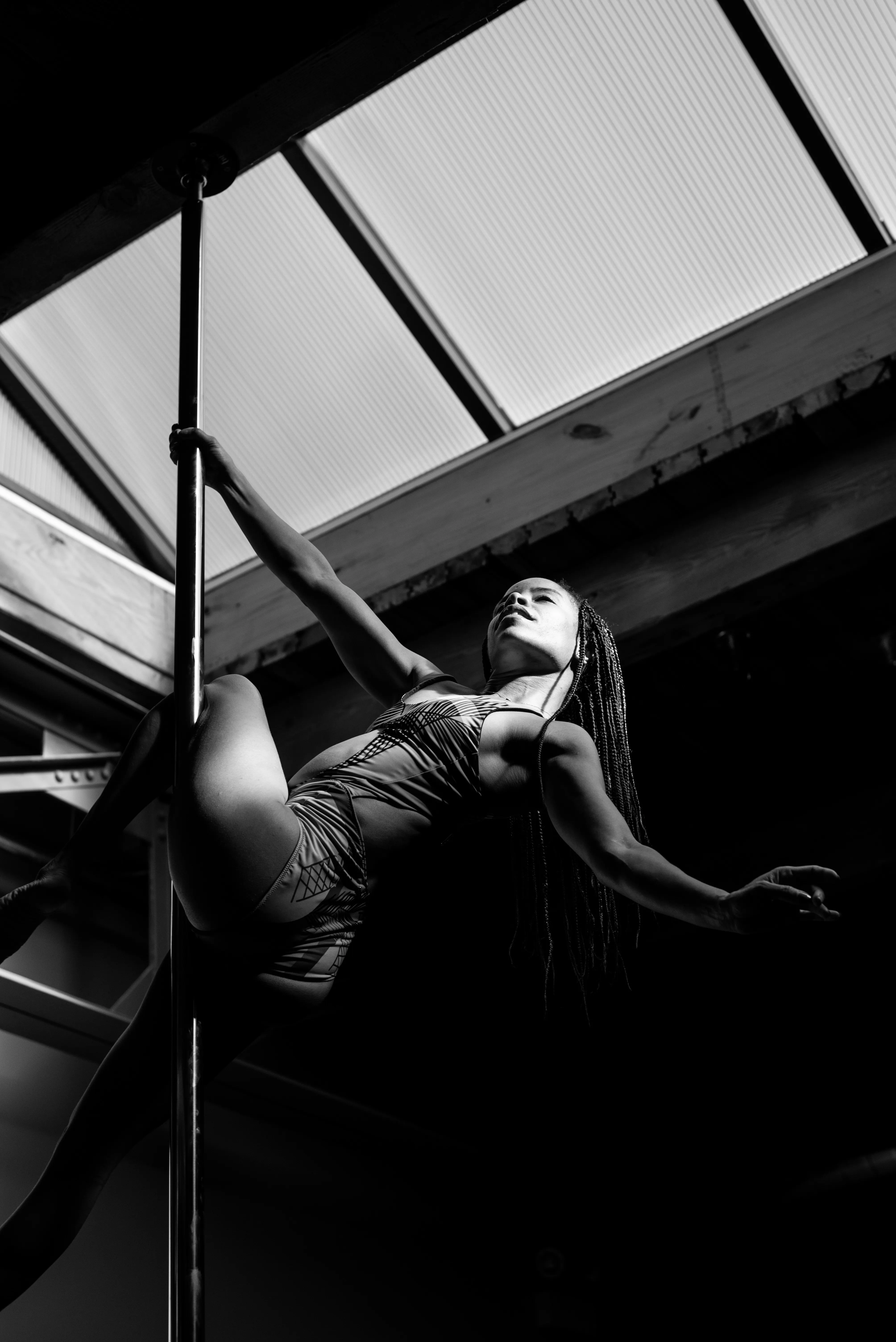 "I'm just kind of a nerd," Em says. "When I see what I like, I go find how I can be closer to that. How I can plug into the people and spaces that bring me inspiration." She's grateful for the openness she found among the coaches and pole professionals and that's what she strives to create at Fly Club. "It's the beauty of the pole community for these people, these creatives to open their world to me. I'm just somebody from Chicago who wants to learn, but no one ever turned me away," Em says. "Those spaces and those experiences are what helped me know that when I made the decision to stop teaching out of my living room and I wanted to do something bigger, more legit, there was no way I could fail. I've had such incredible experiences of people being there for me, receiving me, taking me in like family, pole family. I knew that is exactly what I had to have in Chicago, and it made everything else just fall into place that way."
Em plans to continue to develop her studio and her connections in the pole community around the world. "I just want to be connected to other creative-minded people so we can keep each other inspired and passionate about this movement," she says. Her passion for her students is evident when she speaks about them. "All of the people I've had the honor to guide at some point, some part of this crazy pole life, they are the ones who fulfill me, bring a lot of fulfillment and joy to my life, and they're the reason why I was able to create Fly Club," Em says. She loves being part of their journeys. "You meet people who start out taking class for one reason or another, but then it turns into something completely different," she says, "something more intimate and personalized. I really feel privileged to be a part of that."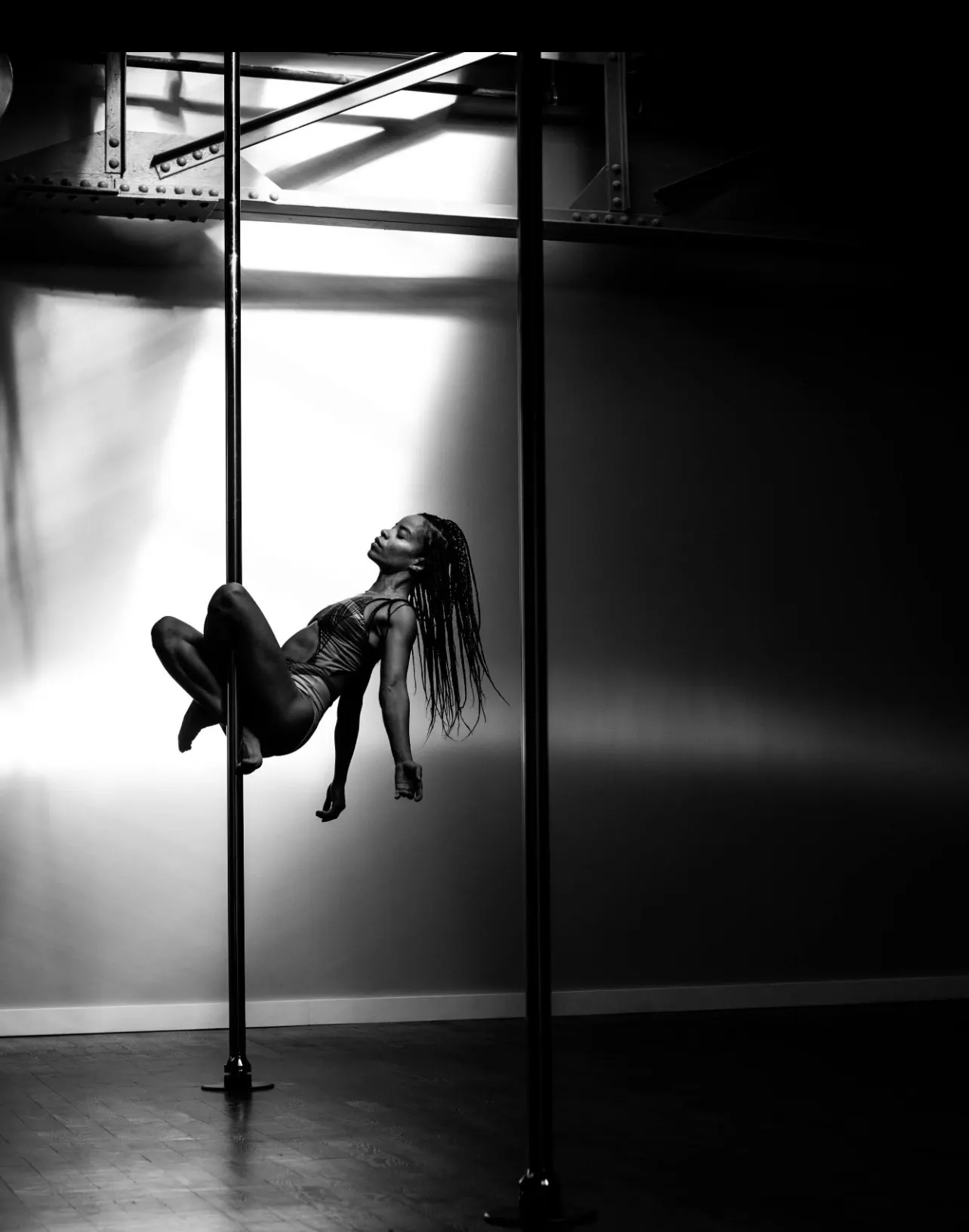 On the heels of headlining Pole Art Events' Holiday Horror Pole Show, Em will be holding workshops at Pole Art Studio. Minnesota pole dancers will have a chance to experience Divine Em's lessons on January 7th and 8th at Pole Art Studio, where she will be teaching three workshops that cover multiple skill levels. Dominate Tricks is a more advanced class, but there's also Get Bent to learn flexy tricks and how to look flexy even with low flexibility. Her third workshop is Unleashed, where students will practice some freestyle skills.
Follow Divine Em on social media for inspiration.
Instagram: @poledemon
Facebook: Divine Em